IlDivoForEver
Site Admin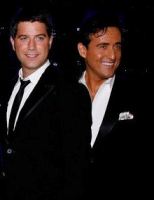 Joined: 27 Jan 2011
Posts: 20
Location: Budingen,Belgium and with Seb
Posted: 14-02-2011 11:27:04

Post subject: 02/10/2011 IL DIVO perform in Ireland at Kilruddery Festival

---

02/10/2011
IL DIVO set to perform in Ireland at Kilruddery Festival this August

Il Divo are set to perform for one intimate evening at Kilruddery House & Gardens on Friday, August 19, 2011, as part of the Kilruddery Festival in Bray, Co. Wicklow, Ireland . The stunning 17th Century surroundings of Kilruddery House, with its natural amphitheatre, manicured gardens and ideal picnic areas, will open its doors to what promises to be a special show in a truly spectacular and intimate setting. To learn more about the Kilruddery Festival, an annual event that saw Jose Carrerras closing last year's season, go here.

Tickets go on sale this Friday, February 11 at 10 am, both online and at Xtra vision stores nationwide throughout Ireland.
_________________
Friends are everything,just treath them well...